FS: " The Irish Curse" - how did that name come about?.
SOS: I got my nickname after hitting an opponent where the sun-don't-shine! In the USA the Irish Curse is when a guy is suffering from the ill effects of alcohol and not able to perform in the bedroom department, trust me, when I hit them with my Irish Curse they aint getting it back up!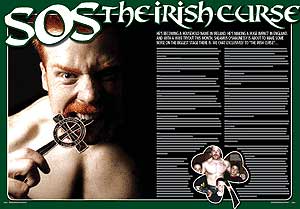 FS: What were your first wrestling memories, and what got you interested in the wacky world of wrestling?
SOS: My first memories were that of watching Finlay and Giant Haystacks in WOS. Even as a kid I loved watching those guys on ITV every Saturday afternoon. My love and respect for wrestling grew after being introduced to the WWE and watching amazing characters and wrestlers like The Macho Man and Bret Hart fill the screen. That love and respect has never died and it's what inspired me to do what I do now.
FS: So at what stage did you decide that you actually wanted to get into the wrestling business?
SOS: I just finished college with a Diploma that I had no interest in using. Once I had completed my studies and had something to fall back on I took a chance and I went for it and followed my passion... wrestling. I had no ties, no responsibilities and nothing to loose. It was now or never for me, and it still is!
FS: You broke in with Larry Sharpe and The Monster Factory in 2002. What made you choose Larry's school initially?

SOS: I was introduced to Bret Hart while he was in Dublin in 2002 and spoke to him about my desire to get into the wrestling business. We had a talk and he advised me that Larry was the guy to train with. Six months later I headed off with a suitcase and endless possibilities. I was determined to make my name in the wrestling world no matter what sacrifices I had to make.
FS: What was the experience like, training over in America in the American style, and was it different from what you expected?

SOS: It was unlike anything I'd ever experienced before. The training was harder then any other sport I'd played and that included GAA Football and Rugby. I remember taking close to 50 bumps at my first session on a ring that felt like concrete. I could barely move and my body was in shock but I was first at the gym the next day to start all over again. I wasn't going to give up so easy after traveling thousands of miles to follow my dream. I was determined to stick with it.

FS: The Monster Factory has a great reputation for producing quality guys, like The Big Show, Bam Bam Bigelow, Raven and so on. Who were some of the guys you trained with while you were there?

SOS: There were three stand-out wrestlers while I was there. One was Tank Toland who wrestled as James Dick with the Dicks the second was Cliff Compton who is OVW right now waiting for his opportunity and last but not least is Cindy Rogers who is one of the top female wrestlers on the US Indy scene right now. Three top class wrestlers.

FS: You suffered a neck injury that put you on the shelf for a while. Can you tell us about that?

SOS: It came about from a freak accident. I caught my foot before taking a hi toss and my then 18st bodyweight came right down on my neck. I couldn't feel my hands or legs for what seemed like an eternity after. I thought I was done.

FS: Neck injuries are almost becoming par for the course in the business these days, but it used to be such a rare thing. Now it seems that guys are getting neck p roblems all the time – what do you think that's down to?

SOS: The difference with wrestling now compared to the 80's is that it's a lot faster, there's more bumps being taken and more wrestlers are taking more and more risks in the ring to capture the audience's imagination. Fans are so desensitized to moves that wrestlers are finding it harder and harder to entertain them. Hence, taking more and more risks... When this happens you're leaving your body open to serious injury. I try to be very protective of my body in the ring as one major mistake could mean the end of my career. You need to be smart with what you do and practice, practice, practice...

FS: Is getting injured something you're very conscious of now and has it affected your approach to wrestling at all, or are you still pretty fearless in the ring?

SOS: I try not to think about it. If you go into the ring conscious that you might get hurt then you will get hurt. I go out and give 100% every time. If something happens then it happens - its all part of the game but you just have to be wise to how you put your body on the line. For example I know I can't do 450's so I ain't gonna try it in the ring. I'll stick to what I've got a lot of... Power.

FS: Okay, when you got back into the game, you started with the IWW school in Dublin. Was that more a case of just getting back into ring shape, getting more familiar with the European style – what did you pick up during your time there?

SOS: I got a lot of ring time and experience out of them. I got to wrestle guys like D'Lo, and Vampiro and learned a lot of them in the ring. The TV show was also good exposure for me and helped raise my game. However, I realised quickly that if I wanted to get ahead and compete with the best the wrestling world has to offer then I had to move to All Star Wrestling and wrestle for Brian Dixon. Say what you want about the rest but getting to work Drew Galloway, Chad Colyer, Robbie Brookside, James Mason and Mikey Whiplash in front of 2000+ every night is gonna make you raise your level. These guys are the best in the business; I don't care what anyone else says. I'd gone as far as I could have in Ireland with IWW and ASW was the next logical step.

FS: We spoke to Nigel McGuinness a couple of months back, who also went to the US for his training, before coming back to the UK to round himself off as a performer. Do you think that's a route that more young guys might start taking?

SOS: Definitely. I have wrestled guys from all over the globe and you pick up something new from each and every one. I believe in being flexible and being able to wrestle various styles. What's the point of just wrestling US or just British fighters? You got to be able to fight them all, when you have that experience you can wrestle anywhere in the world plus you'll stand out from the crowd. Fighting is all about evolution of style and finding new moves.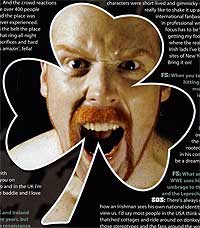 FS: You went on to great success in IWW, where you had some memorable title confrontations with guys like Vampiro and D'Lo. How was it working with these big stars?

SOS: It was a great experience for me especially as a rookie. It was nerve wrecking at first but the bouts helped establish me as the top heavyweight wrestler in Ireland and gave me the belief that I had no problem raising my game when called upon. Again, it paved the way for me to go to All Star and wrestle guys on their level on a daily basis.

FS: How did the fans react to you, the local hero, overcoming these world famous warriors from overseas?

SOS: The crowd reactions were amazing. I believe there was 400+ in Dublin for the Vampiro match and the place was buzzing... It was unlike anything I'd ever experienced. When I came out of the match with the belt the place went crazy. I could have stayed in that ring all night. It was one of those: "All the self sacrifices and hard work was worth it," moments. It was amazin' fella!

FS: A lot of fans have noted the symbol you wear around your neck, The CROSSOS. Can you explain the significance of that for us?

SOS: The CROSSOS is a combination of the classic Celtic Cross and the authentic Celtic War sword blade. It is the metaphorical illustration of SOS's indigenous origins with a hybrid of warrior strength matched with a strong ethical centre. We Irish were once a fierce, honour driven hierarchical civilization that put fear into our enemies - that's what my character draws on... Much of Ireland's current international identity is that of Guinness, Leprechauns and Blarney stones. Considering we have possibly the richest pre and post Christian history of any country in the Western-world I sometimes feel like saying: "Irish culture spans a lot further back than the Great Famine and the British occupation!" We were great once, and we will be great again... Currently we are a warrior race emasculated by house prices, political correctness and the feckin' Celtic Tiger! Pick up a Jim Fitzpatrick graphic novel if you really want to know where the Irish come from...

FS: During your time in IWW, you also had a feud with another break-out star form this side of the pond, Darren Burridge. What was it like working with Darren?

SOS: Darren was great. He was and p robably is one of the most technically proficient British wrestlers out there with bags of charisma to boot. It's hard not to like him - as you can see at every show... He's someone I'd definitely like to step into the ring with again quite soon. There's always a good scrap when you're in there with The Pukka One!

FS: Obviously you've done a lot of touring in Ireland, but you've also been up and down the road in England as well for Premier Promotions, All Star, Varsity Pro and others. What are the differences between the fans in the UK and Ireland, and do you have to adapt your style at all depending on where you're wrestling?

SOS: My style does vary depending on where I'm at... Premier still uses the classic British rounds style while All Star is more US styled. My style will change more on the opponent rather than the promotion though. It'll be a different fight if your in the with Chad Collyer or Vampiro. It keeps you on your toes... At home I'm the Irish hero and in the UK I'm the Irish villain – it's a kick being the baddie and I love winding-up the crowds in the UK.

FS: The wrestling scene in the UK and Ireland has had its ups and downs over the years, but it really seems to be undergoing a renaissance right now. What are your thoughts on the current state of the business over here?

SOS: It appears to be quite good. To be honest I haven't been over in the UK too long but with ASW, Premier, IPW, 1PW, BCW and LDN along with other solid Indy promotions across the country it appears to be stronger than ever. I'm really enjoying wrestling for them all and being a free agent. As for Ireland, a fresh new promotion called No Limit Wrestling is offering the best of Irish talent from around the country and bringing in big crowds so the home fans are being spoilt right now.

FS: Something that has been undeniably huge for the domestic business is The Wrestling Channel, which has given a spotlight to home-grown promotions and wrestlers. How influential do you think TWC has been, and how important will it continue to be for the wrestling business here?

SOS: Regardless of what anyone says TWC has brought the UK indy scene to the fans attention. Sean Herbert and Co. have done a great job giving the Joe Average fan another insight into wrestling promotions aside from the WWE including: TNA, Noah and IPW, 1PW, LDN and IWW while showing the UK viewers that we have our own stars here too.

FS: You're booked on WWE's Raw and SmackDown! tapings in Manchester on November 13 and 14. Can you tell us what you'll be doing, or is it all hush hush at the moment? (Note: This issue hits the streets the week before those shows, just in case there's things you can't talk about before a certain time!)

SOS: Right now I honestly have no idea. They want to have a look at my work and see if Sheamus O'Shaunessy can bring something new to the WWE. Anything could happen on the day so I really don't know. I do know this: I'm gonna go in there and give it my best shot. From there we'll see what happens. But I can't live my life worrying if the WWE like or dislike different aspects of my character; all I can do is work as hard as I can, trust in myself and hopefully they will get it... I say hopefully!

FS: Steve Lewington was signed following by WWE after appearing on the Raw taping last year, and obviously the company recently picked up Nikita and Burchill as well. This obviously bodes well for you – do you think this is the start of a breakthrough for home-grown talent hitting the big time?

SOS: I'd say the WWE is now as big if not bigger outside of the USA so it only makes sense they bring in some foreign blood into their ranks. There have always been a few foreigners in the WWE over the years but many of these characters were short-lived and gimmicky, if I went in there I would really like to shake it up and work on building a solid international fan base. I want to have a long career in professional wrestling and that means my focus has to be WWE, but something tells me getting my foot in the door there would be where the real work begins! Well, like a lot of Irish lads I've broken my balls on the building sites of New York so I've no fear of hard graft. Bring it on!

FS: All of those guys are currently wrestling in OVW. Have you worked with any of them before, and how much fun would it be to join the UK clique over in Louisville?

SOS: I had the opportunity of wrestling Steve in ASW and I he's an awesome athlete. I had to crack a 4 foot flag pole over his head to keep him down which didn't go well with the audience at the time. Did I care? Not a chance. But there's no doubt about it, he's gonna make some waves over there. He's almost as big as me!

FS: When you talk about Irish wrestlers hitting the big time, it doesn't get much bigger than Fit Finlay, who is a star in WWE but was a true megastar over here. Were you a Finlay fan growing up?

SOS: Finlay was and is still a legend in my eyes. As an Irish lad you have to support your own. No matter what he did in the ring, good or bad I always rooted for the fella. Hopefully I will be in his corner someday, now that would be a dream come true...

FS: What are your thoughts on how WWE use him – some people have taken umbrage to the "fighting Irish" stereotype and the Leprechaun…

SOS: There's always going to be a conflict between how an Irish man sees his own national identity and how people abroad view us... I'd say most people in the USA think we all still smoke pipes, live in thatched cottages and ride around on donkeys! Finlay's character plays on those stereotypes and the fans around the world go crazy for it. As I said before Irish culture is so much deeper and relevant than that, my character reaches back thousands of years and tries to recapture the true heroic spirit of the likes of Fionn McCool & Cuchulain and hopefully bring it to a whole new generation. Celtic Mythology has fuelled recent movie epics such as Lord of the Rings & Conan The Barbarian which, just goes to show how much interest these ancient stories and characters have today...

FS: Both Finlay and William Regal use the hard-hitting European style, which is really the father of Japanese strong style. Both men have had awesome matches with Chris Benoit in WWE using that style, which fans have been very receptive to. Do you think that's a direction they need to go, bringing the European flavour in?

SOS: Well it's different and it stands out. It's what I said before, why wrestle like everyone else? It's good to mix-it-up with different styles so you can wrestle anyone, anywhere. Kick and Punch can only go so far...

FS: Some of your countrymen, Fergal McDevitt and Rebecca Knox, have gone onto great success outside WWE. Fergal is working for New Japan right now – is wrestling in Japan something you'd be interested in?

SOS: Definitely. I recently came into contact with some Japanese students in the UK recently and they just stood in amazement staring at my red hair and freckles like I was some sort of giant Irish freak! So, Japan is on the list – if Sheamus O'Shaunessy set my foot over there I reckon they would go nuts for the SOS character... Growing up I was always very conscious of being so white and ginger, but since becoming a wrestler my natural identity gives me something different in a world of bronzed Californian looking dudes. Who knows? I might even make it fashionable to be a ginger!!

FS: On that international note, who are the guys, from anywhere and any promotion in the world, that you'd really like to wrestle, and why?

SOS: Tough one that. I guess Regal and Finlay would be cool. I'd also like to get in there with Doug Williams. I have always had a lot of respect for him as well. I've already wrestled the other lad Robbie Brookside so one down, three to go...

FS: Back home, you're one of the few grapplers that has managed to get some mainstream publicity, with coverage in The Sun, The Star, The Daily & Sunday Mirror, The Metro… how important is that in establishing your career?

SOS: Very, very important. It's helped get Irish wrestling some good publicity. A lot of people back home didn't even know wrestling existed in Ireland before SOS started popping up in mainstream tabloids. My aim is to get Irish wrestling noticed and hopefully increase the local fanbase. It's looking bright right now but it's all part of being a modern day Wrester – understanding how the media machine works is just as important as being able to go to the top rope...

FS: Now, you had a little gig on The Podge & Rodge Show with George McFly a little while back. For our non-Irish readers, just fill us in on Podge & Rodge, and tell us what that experience was like.

SOS: Podge and Rodge are two filthy Irish provincial puppets who like to tear strips off celebrities – the show is the brainchild of the two nutters behind Zig and Zag on The Big Breakfast and The Bronx Bunny Show. George and I dressed up for their Halloween special and did a spot of Leprechaun Wrestling for the craic. It went down great and got me noticed by the Irish media plus I'm always up for crazy shit like that, you have to be able to laugh at yourself in this game...

FS: You've also shot some scenes for an upcoming movie, 3Crosses. How did you get involved in that?

SOS: 3Crosses is an extremely violent Irish movie with a fantastic cast of stars. Colin Farrell had a small scene in it but I heard his trip to rehab put an end to that... It's directed by the Figgis Brothers who spotted me Wrestling at a show in The Laughter Lounge in Dublin. The crazy thing was that the movie was already in-the-can but they wanted to cut in an extra scene in just so they could get SOS into the production. Sadly I get a terrible bloody beating off a guy half my size in a scene, but hey, sometimes you have to take it on the chin for your art!

FS: It's been described as "The most violent and bloody Irish movie ever made" and is about a pair of brothers, one of whom is a prize fighter. There are some big names attached like Uri Geller, Karl Hayden from Patriot Games, Samantha Mumba, Caprice… what can you tell us about the film?

SOS: It s gangster movie based on three Polish brothers, one of them gets murdered and the other two go on a vicious rampage of revenge. It's violent, bloody, full of action, leaves nothing to the imagination and is packed full of stars. Like SOS it's going to leave its mark!

FS: We understand the film had already wrapped, but when the brothers saw you, they went back and inserted a scene just for you, where you scrap with Hytham Martin (from Dublin band Eyesclosed). That's a pretty big deal!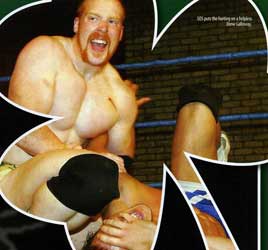 SOS: Like I said, they saw me fighting in a Dublin bar and couldn't believe their eyes! Hytham was cool until he didn't pull-a-punch correctly and left me with a two inch gash across my nose from the chain he had wrapped around his knuckles. He's still alive though, luckily for him I'm a professional!

FS: Director Jason Figgs said he has the perfect role for you in his upcoming horror flick – is acting something that you'd like to pursue along with your wrestling career?

SOS: Definitely. I've got the taste for it after a few TV appearances and 3Crosses plus a few more potential offers - so I'm always open to doing more. But I'm not going to be the next Sir Laurence Olivier any time soon so for the moment I just want to concentrate mangling bodies up in the ring. That's what I really love!
FS: Okay, five years down the line, where is SOS going to be?

SOS: Hopefully at the top of the wrestling mountain. As I said, I'm not in this just for fun, I'm in this to go all the way to the top and stay there for as long as possible. I'm not here to make up the numbers - I want to be remembered as one of the greats! This is the path I've chosen in life and although I've a long way to travel just the idea of standing in that ring surrounded by screaming fans gets out of the bed and into the gym every morning!

FS: Finally, any last plugs or shout outs to the fans?

SOS: Most definitely. Check out my official website www.sosofficial.com where you can hear my most excellent theme song "The Irish Curse" for free and get all the latest SOS news, photos and videos on the next biggest thing to come out of Ireland since Bono's ego! I've also opened up a MySpace account for networking with other Wrestlers and Wrestling Promotions here: www.myspace/sosofficial... Lastly, I always like to bow-out with my war cry to members of CLAN SOS... I've Always Been, I'll Always Be, COME WITH ME!!!!